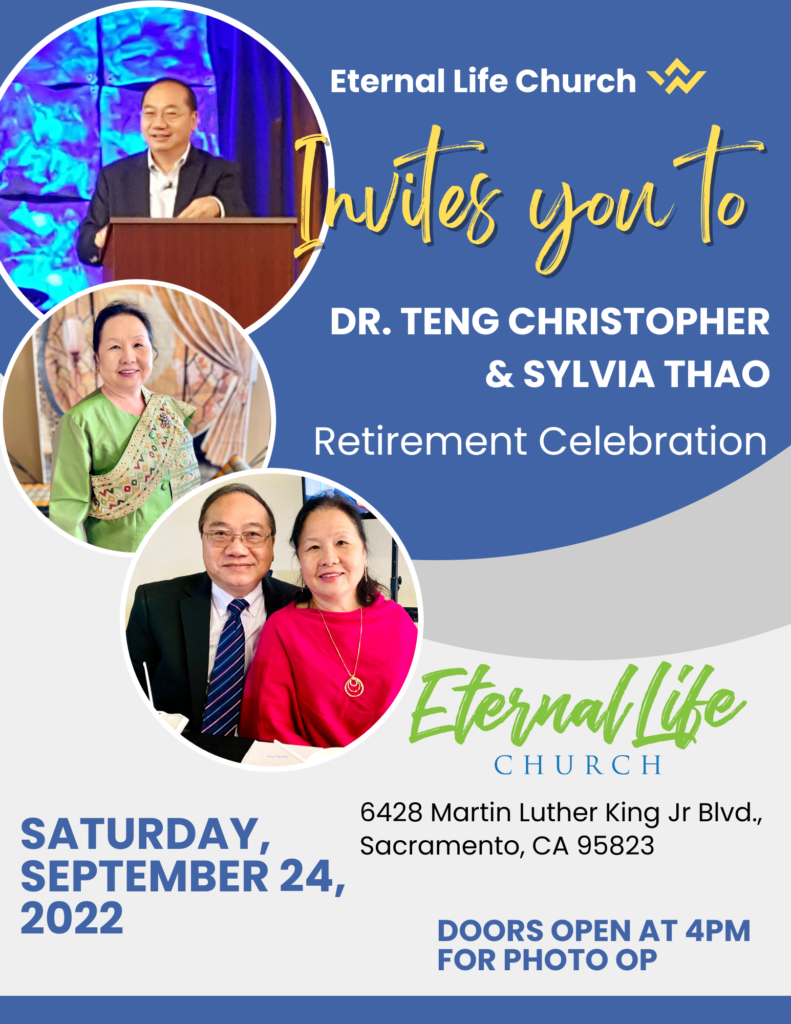 ~ If you're visiting us today for the first time, we would like to connect with you. Come and visit us at the Welcome Center after service.
~ New member orientation is happening Sunday, October 30th after English service. If you are new to Eternal Life Church and completed a new membership questionnaire form, please attend this orientation. We will also be taking your family photo on this day for our church directory. Location will be here in the sanctuary. 
~ You are cordially invited to Pastor & NXF Christopher's retirement celebration on Saturday, 09/24/2022. It will be here at Eternal Life Church. Doors will be open at 4PM for photos and refreshments.
~ Pastor Christopher is retiring. For those who are willing and able, we would like to take this opportunity to bless our Pastor & NXF. You can give via Church Center under the fund Love Offering, give Cash or check via church envelope, or give cash or Venmo to Toby at @Toby-Moua. Thank you. 
~ Please bring your food around 4pm on Saturday. GG's: we need your help receiving of foods at 3PM. So please come early. 
~ Friday, September 23rd at 6PM please come and help set up and decorate for Pastor and NXF's retirement party. 
~ On Sunday, September 25th we will be having a photo op for Pastor & NXF before they leave to MN. Please come to church dressed in your Hmong outfits. If you know what village you came from, please wear the Hmong clothing from that region.
~ This year's Pastor Appreciation is set for Sunday,  October 9th. This is a combined service that starts at 10AM.
~ Pastor Christian Vang has been appointed by the District Superintendent as our next Senior Pastor. He will be installed as the Senior Pastor on Sunday, October 9th during Pastor Appreciation and will assume the leading role from there.  Sunday, October 9th will also be Pastor Christopher's last day at ELC.
~ Central Pacific Coast Hmong Alliance Church cordially invites you to their 40th Anniversary celebration of their church on Saturday, November 19, 2022 from 1PM – 6PM at 420 East Fir Avenue, Lompoc, CA 93436. Celebration will include a worship service and dinner. If you'd like to attend this event, please email / contact the following: Reverend Jerry Lor (Senior Pastor) at 805-291-3394 email: jerrylor09@gmail.com or Mr. Thai Vang (Celebration Chairman) at 805-717-2124 email: tvang2k@yahoo.com. 
~ Sacramento Hmong Alliance Church (SHAC) Men and Women Ministries presents Godly Living in the Hmong Culture (Romans 12:1). An educational Q&A event to equip Christians with Biblical guidance on: Wedding, Funeral, Spiritual Healing and Protection. Event will take place on Saturday, October 8, 2022 from 9AM – 4PM (doors open at 8AM) at SHAC 9131 Locust Street, Elk Grove, CA 95624.  This is a free event with lunch provided.  Seats are limited; please register early by October 2nd. Please use the QR code found in the church lobby, via Facebook (type: "Godly Living In The Hmong Culture") or register by phone: 916-685-6921. Respondents are: Kx. Txawjteeb Vaj (Senior Pastor, SHAC) and Dr. Ntsum Thaiv Vaj (Senior Pastor, Alliance Church of Merced). 
~ Young adults! Come join us for our monthly fellowship on Sunday, September 25th from 5PM – 8PM here in the MP room. We will be hosting games and activities. 
~ We invest in our kids. We invest in our jobs. Let's take a moment and invest in our marriages.  You can do this a the marriage conference called "A Weekend to Remember." This is not marriage counseling. Rather it's about learning to live and love as husband and wife…as God intended.  Great marriages doesn't just happen. Be intentional about yours. Sign up with Pastor Blong today in the lobby. The event is on November 4-6 in Monterey.
~ Great news! Dr. Timothy Vang will be visiting us for Thanksgiving weekend (Nov 19-20). Please save the date.
~ Men's Ministry will have its retreat in the Fall of this year: October 21st-23rd 2022, at Camp Alta, CA. The price of the retreat is $160 and includes 3 days, 2 nights with dinner on Friday, 3 meals on Saturday and breakfast on Sunday. Blankets and pillows are not provided due to covid so you will need to bring your own. Spaces are limited so this is first come first served basis. There is no holding, so pay in full if you're interested in going. Please note: this retreat is open to men and young adults only. Deadline for payment is Thursday, 09/15. For more information, contact any of the Men's Ministry coordinators. 
~ We are still accepting any donations for our food pantry. Whether it be canned goods, noodles, or any perishable food items. There are food bags in the MP room for anyone and everyone to grab and take home. For more info, please contact any of the Hmong Ministry Coordinators: Tony Lee, Lue Thao, or Cheng Vue. 
~ Have extra cans and bottles to recycle? Feel free to donate any bottles, cans, or glass you have to the young adults ministry! They will be recycling cans to help fundraise money for future events such as fellowships, night of worships, and more! Recycling will be held every Wednesday at 6pm.
~ The Young Adults will transition to joining the Youth for English service. This transition is optional for each individual but will be put in place until further notice. 
~ You can get in touch with the young adult ministry on their Instagram page @elc.young.adults
~ CE Ministry is in need of volunteers to help with teaching our children during Sunday school.  If you're interested in teaching, please reach out to Jennifer Heu or any of the CE Coordinators.
AV is looking for more people to help them. No experience necessary and they will train.  Please reach out to the coordinators if you would like to assistP
If you need AV assistance for an event, please email the AV team at ELCAV916@gmail.com.
Please remember to turn off the heater when you leave the church buildings. If you turn it on, YOU must turn it off when you leave.  
If you are interested in getting baptized, please reach out to Va Tou Moua. 
Those in need of prayer and comfort, please reach out to Va Tou Moua and Lee Lo.  They will also be available after each service for prayer. You can join them in the conference room. 
If you haven't been added into the Instant Church Directory, please reach out to Tony Yang or May Yang. 
For Announcements or Room reservations please contact Maikue Khang. (phone number can be found in the Church Directory)
Youth Ministry Youth fellowship every Wednesday night from 6:00pm-9pm in the Multipurpose Room.
Youth Fellowship event is every last Friday of each month from 5:30pm – 8pm. Location is primarily here at ELC; unless otherwise stated. Any questions, contact the Youth Coordinators: May (David), David or Pastor Kongchinh. 
Hmong Ministry Prayer Night at 5pm every Wednesday in the CE Building.