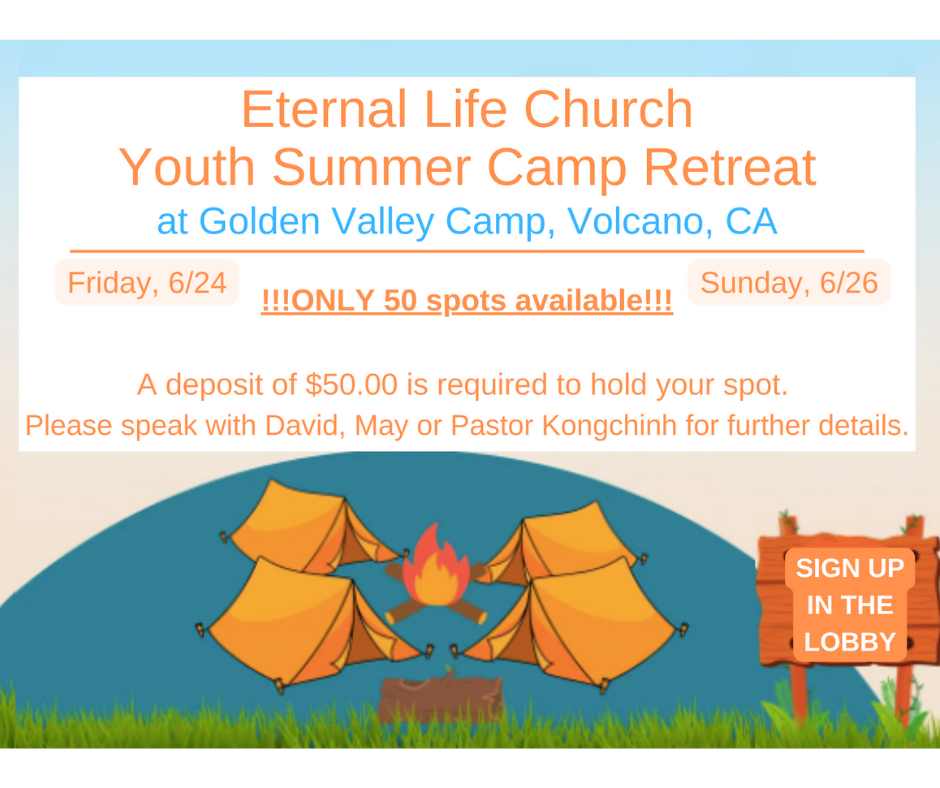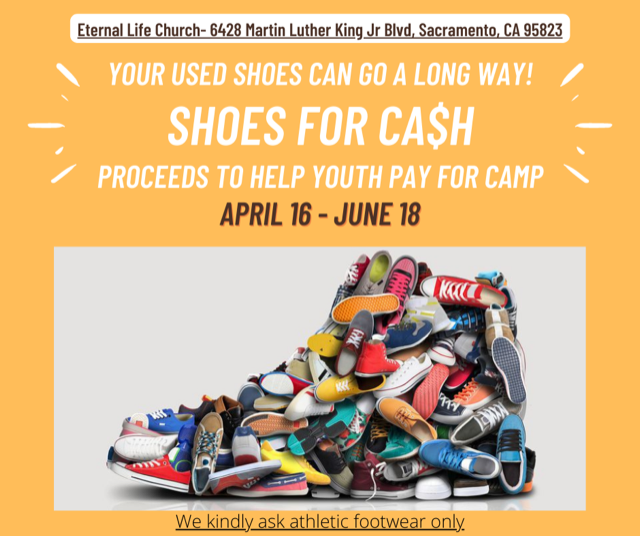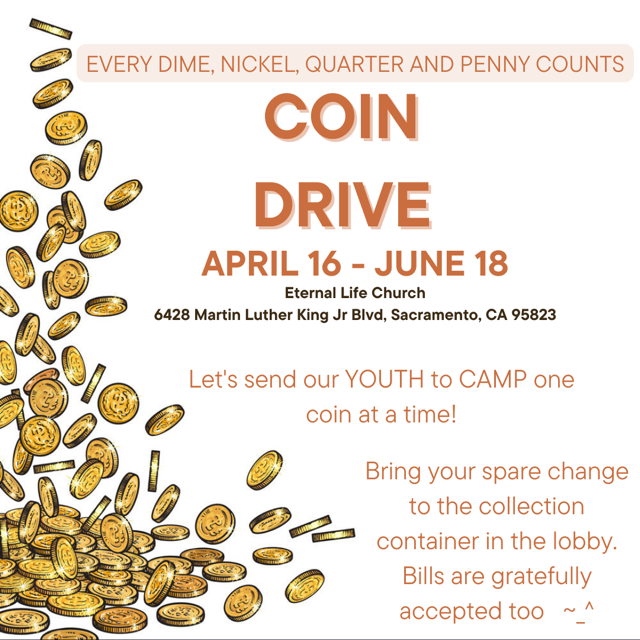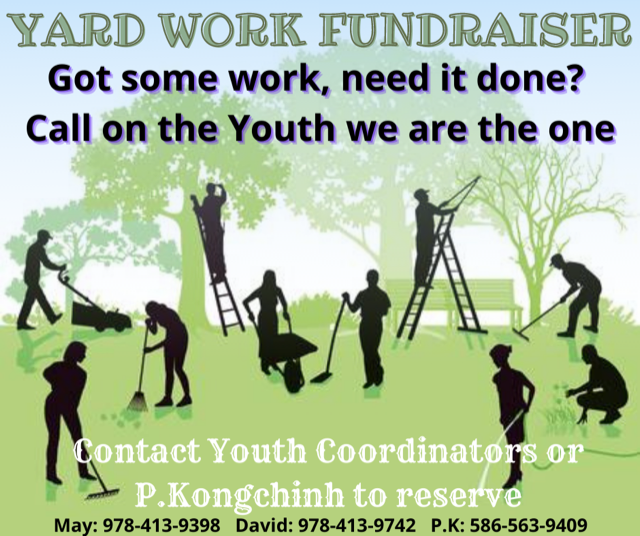 ~ If you're visiting us today for the first time, we would like to connect with you. Come and visit us at the Welcome Center after service.
~ New member orientation is set for next Sunday, May 22nd after English service. If you haven't gotten your photos taken, we will be providing this service on this date as well.
~ The Envision Mission Team would like to thank Eternal Life Church members, families and friends who have donated their goods for our yard sale fundraiser. As mentioned previously, all proceeds of this yard sale will be going directly to Pastor Toulee Thao and his ministry work in Bangkok. We'd especially would like to give special shout outs to the Men's ministry, GG's, Young Adults and Youth for helping with the manual work. Also, thank you to our wonderful Brother Jerry and Sister Paia for providing us a delicious lunch. And last but not least, special shout out to our Brother Stephen for being out there with us all morning 'til dawn, being the rockstar that he is. May God bless you all abundantly. This yard sale, we were able to fundraise a total of $2,988.00. Praise God!
~ For this month's fellowship, the Young Adult Ministry will be having a boba/movie night on Sunday, May 29th from 5-8 pm. The movie that will be playing is Infidel. If you would like to have boba, please see Kayla to put in your order. The boba will be purchased from T4.
~ The next Young Adult book club meeting will be this Friday, May 20th from 7pm-9pm in the conference room. Please come and join us! Snacks and drinks will be provided.
~ Starting next Sunday (May 29th), the Young Adults will transition to joining the youth for English service. This transition is optional for each individual but will be put in place until further notice. You can get in touch with the Young Adult Ministry on their instagram page @elc.young.adults
~ Our Youth Retreat is set for Friday, June 24th through Sunday, June 26th at Golden Valley Camp. Only 50 spaces available at a first come, first serve basis. Sign up and fundraising details can be found in the lobby. Any further questions, please reach out to Pastor Kongchinh or Youth Coordinators: David and May.
~ Men's Ministry's next event is set for Saturday, June 18th from 10AM – 12pm at Quarry Park Adventure in Rocklin. It will be an adventure day. Men's Ministry will coordinate in reserving tickets for everyone. The ticket consists of a 2-hour total experience. Price is $56/person with a minimum of 10 people signing up through reserving with Men's Ministry; otherwise, the regular price per ticket is $69+taxes/person. Please note: to book this ticket, guests must weigh between 70 and 250 pounds. For more information please contact Ger, Hang, Alex and Nou. They will also be in the lobby for sign up's.
~ GGs recycling fundraiser is in full swing! Please bring your recyclables on Sundays to church or on Wednesday evenings at 6pm for sorting when they sort. Drop them off in the designated area in the MP room. If you're unable to bring your recyclables to church, please contact any of the GG's Coordinators and they can pick them up. Any questions contact any of the GGs: Xeng, Alex, Serena or May Tony.
~ Sacramento Hmong Alliance Church Women Ministry invites all Women and Women from local C&MA churches to join us for an all-day Women's Conference on May 21th 2022 from 9AM – 5PM. The objective of this conference is to encourage and empower women to achieve and maintain strong body, mind and spirit through the Word as we overcome obstacles facing us today. Let's Seek to Know God together through Emotional and Spiritual Well-being. To better prepare for administrative items and lunch, please register online (registration deadline: April 30th). Click here: https://forms.gle/cVmDGXKMMnkcfJE17.
~  Hmong Family Community Alliance Church (aka north side church) Women's Ministry has invited ELC women and daughters to their retreat in Grass Valley, on August 26th to the 28th. They will have guest speaker HKM Women's Alliance Director N. Kx. Ntsum Nthaiv Vaaj. Services will primarily be in Hmong. Cost to attend is $172/person with meals included. Please reach out to Serena Xiong if you are interested in attending or have additional questions. 
CE is in need of teachers to support in-person learning.  Reach out to any of the coordinators if interested.
AV is looking for more people to help them. No experience necessary and they will train.  Please reach out to the coordinators if you would like to assist.
If you need AV assistance for an event, please email the AV team at ELCAV916@gmail.com.
Please remember to turn off the heater when you leave the church buildings. If you turn it on, YOU must turn it off when you leave.  
If you are interested in getting baptized, please reach out to Va Tou Moua. 
Those in need of prayer and comfort, please reach out to Va Tou Moua and Lee Lo.  They will also be available after each service for prayer. You can join them in the conference room. 
If you haven't been added into the Instant Church Directory, please reach out to Tony Yang or May Yang. 
For Announcements or Room reservations please contact Maikue Khang. (phone number can be found in the Church Directory)
Youth Ministry Youth fellowship every Wednesday night from 6:00pm-9pm in the Multipurpose Room.
Youth Fellowship event is every last Friday of each month from 5:30pm – 8pm. Location is primarily here at ELC; unless otherwise stated. Any questions, contact the Youth Coordinators: May (David), David or Pastor Kongchinh. 
Hmong Ministry Prayer Night at 5pm every Wednesday in the CE Building.